Dear Parent/Carer
The National Literacy and Numeracy tests, set by the Welsh Assembly Government, are used to assess how well Learners are progressing. These tests can also highlight where individuals may need additional help to improve their skills or where they are making exceptional progress.
The Reading Test determines how well a text has been understood and assesses the ability of learners to make judgements about reading. The Procedural Test measures skills in number, measuring and data and has been completed electronically. Learners have been developing the skills needed to prepare them for these tests through their learning in school.
Year 8 learners will undertake these tests on the dates outlined below. Attendance is vital however should a learner be absent from school due to unforeseen circumstances we will rearrange the test dates for individuals. Learners must realise and understand the importance of the tests and are expected to display exemplary behaviour during all test sessions.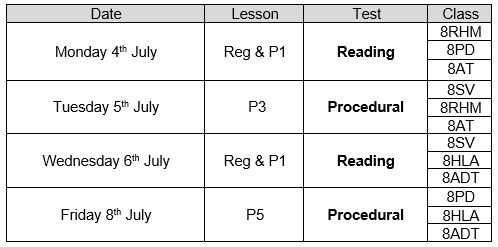 Following the tests, we will be sharing the most up to date progress information. This will be available online via Hwb. There will be more guidance and support to come on how you can access this information.
Thank you in anticipation of your support. Please do not hesitate to contact the school should you require any further details or information.
Mrs J Bartley
Assistant Headteacher