Dear Parent/Carer,
There have been no major changes to our school uniform policy, so please bear our uniform rules in mind when purchasing new uniform items over the summer. Trousers must not be skin tight or jean type and skirts should not be tight fitting and should be a maximum of 7cm above the knee. Currently the length of some girls' skirts is not appropriate for school, however we have not asked parents/carers to purchase new skirts so close to the end of term. No leggings are to be worn. Please see the images below.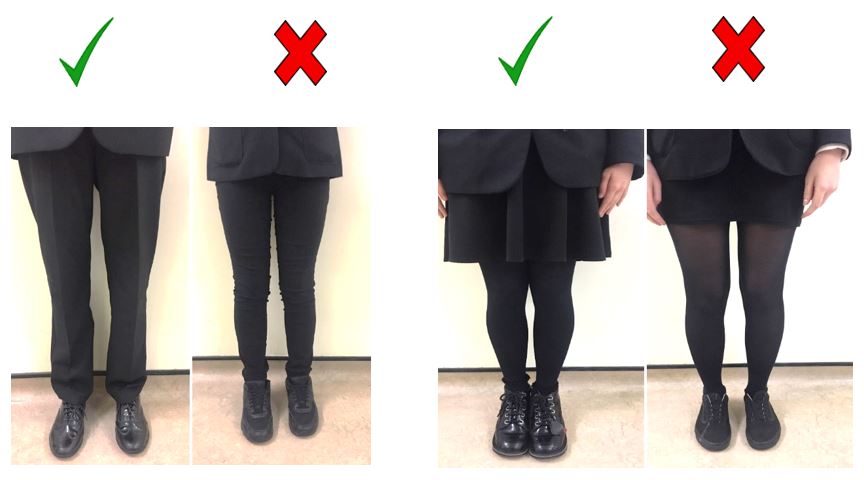 All learners must wear a Lliswerry High School blazer and should they be cold they can add a Lliswerry High School branded black jumper. This does not however replace the blazer. A school tie must also be worn at all times and footwear should be plain black.
The school PE kit remains the same and can be seen below.
Female – Compulsory –  Polo-shirt, either skort or shorts or leggings, and socks

Male – Compulsory –  T-shirt, shorts, and socks plus optional rugby jersey

All learners have the option of purchasing a hoodie as well as having their initials printed on their kit too (no names or nicknames). This would be at an additional change.
The only change in our uniform policy is around jewellery where, after listening to our learners, we now allow 1 small nose stud. Large hoop or dangling earrings, bars, nose rings or any other facial piercings are still not permitted.
The uniform policy is part of the school's drive to raise standards and helps ensure that learners feel part of our school community and take pride in their appearance. Full details about the uniform  requirements can be found on the school website at https://lliswerryhigh.org/parents/uniform/.
From September, if a learner is not wearing correct and appropriate uniform, as per the school's uniform policy, parents/carers will be expected to bring appropriate uniform items to school. If a learner persistently attends school in incorrect uniform, they may be placed in our Inclusion Room (IR). Obviously, we do not want either of these scenarios to happen, so we would ask that you work with us and support the school with this matter.
We appreciate that buying school uniform can be expensive. If the cost of school uniform is likely to be problematic for you, please do contact us on admin@lliswerryhigh.org or contact your child's Head of Year so that we can assist you if possible. Many thanks for your support and understanding with this.
Yours sincerely
Mr D Jackson
Assistant Headteacher (Wellbeing, Inclusion and Equity)